Game Events
Events are some of the main in-game activities that help you get awesome rewards.
Most Events offer you a list of Event Objectives. By completing them, you will receive Event Points.
The more Event Points you collect, the further you advance along the Event's progress bar. Filling that bar will get you some exciting rewards.
There are two ways to access such Events from the Hangar:
- Tap the Events tab and choose the one you're interested in
- Swipe till you find the desired Event in the "Events" window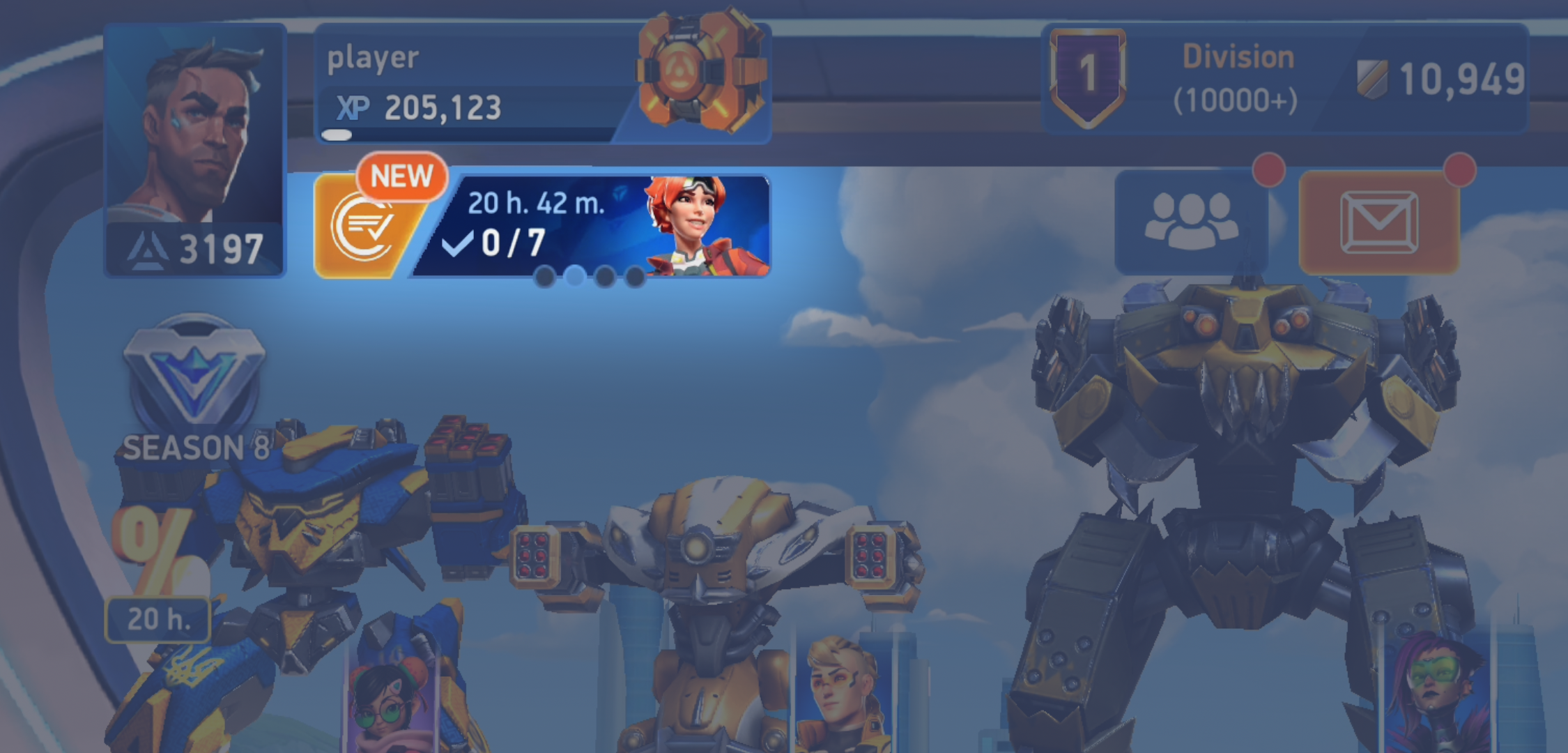 In the list, you can find the Playoff Event. This is a huge Event with some of the best rewards available in the game. It consists of two parts:
1. Objectives
2. Leaderboard


Objectives
Upon starting the Playoff Event, you get to the Objectives. This part offers you a list of repeatable Objectives. You will receive Event Points for each completed Objective.
Important features of this part:
- You can complete every Objective an unlimited number of times.
- You will get Event Points each time you complete an Objective.
Once you have received all the possible rewards in the Objectives tab, you unlock the Leaderboard.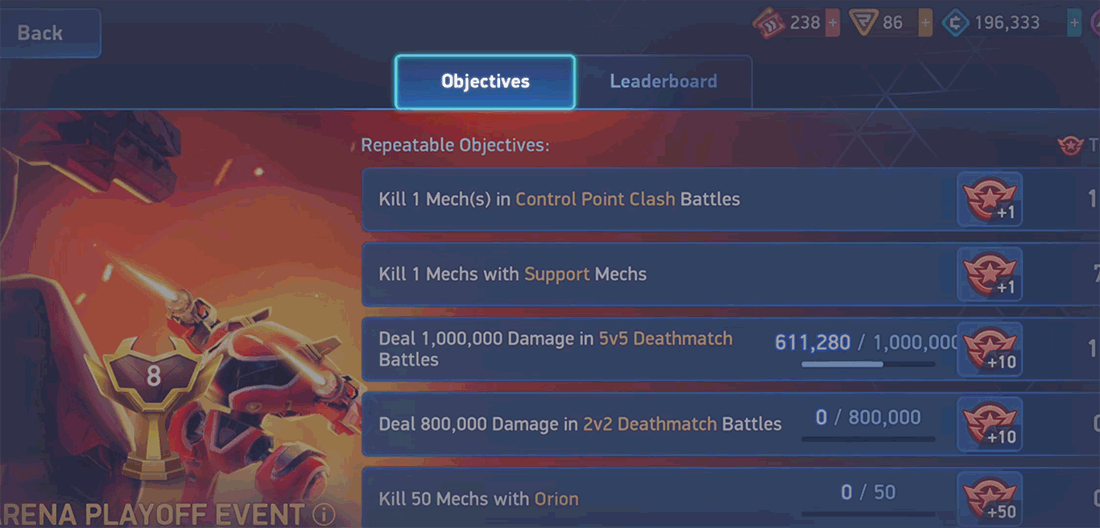 Leaderboard
Here you have a chance to get some of the biggest rewards in the game by competing for a limited number of prize-winning positions.
The rewards may contain:
- New unique Mechs and Weapons
- Implants and Pilot Marks
- Gold Tickets
- Skins
- Fortune Keys
- A-Coins and Credits
- Blueprints
- XP and Combat Points Boosters
- Crates of all types
If, for some reason, you didn't claim the Objectives or Leaderboard reward, it will be automatically added to your Inbox after 7 days.


You will find many more Events in Mech Arena, such as Battlethon and Deathmatch Mania, whereby you have a chance to get a handful of A-Coins or valuable Tokens for completing a variety of gameplay-related Objectives.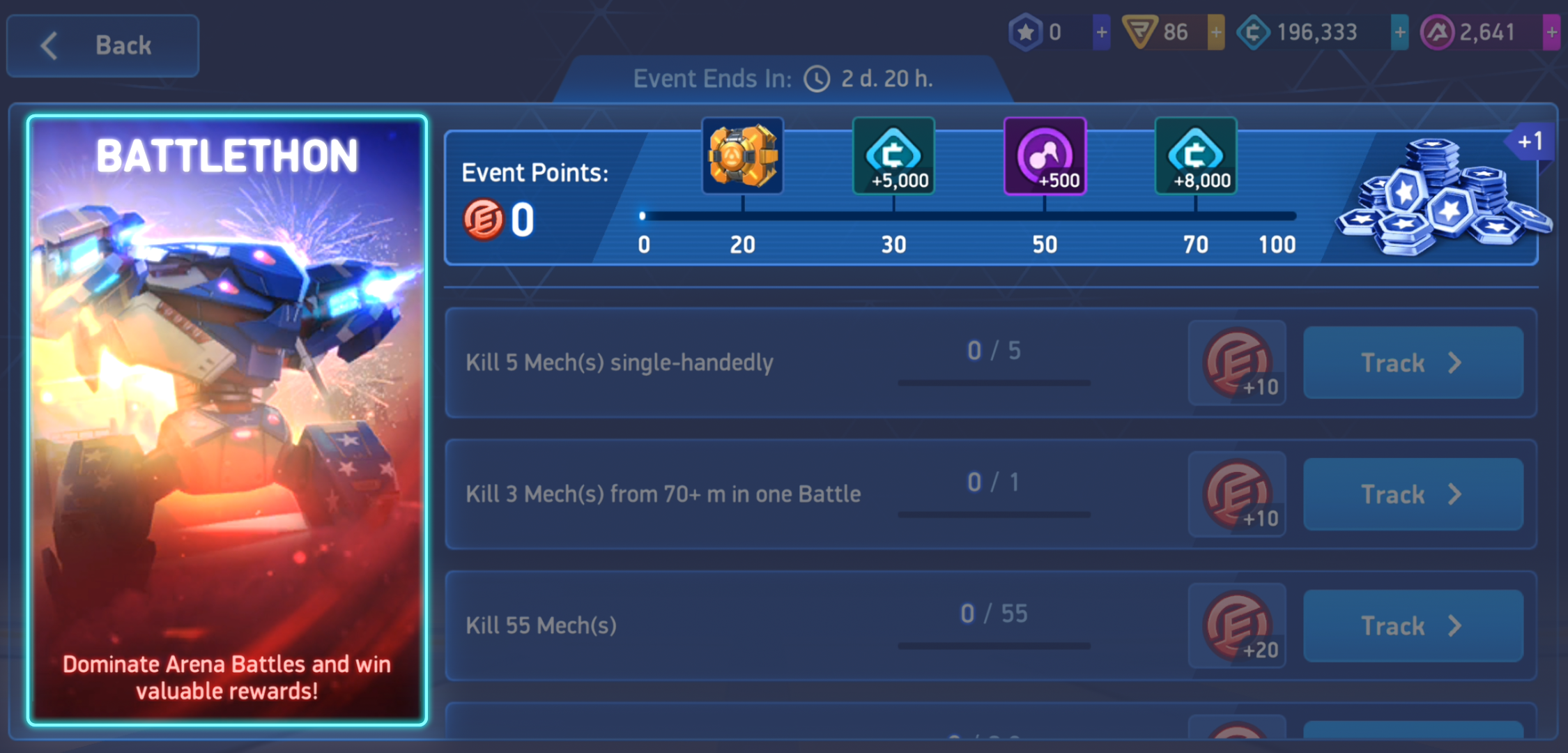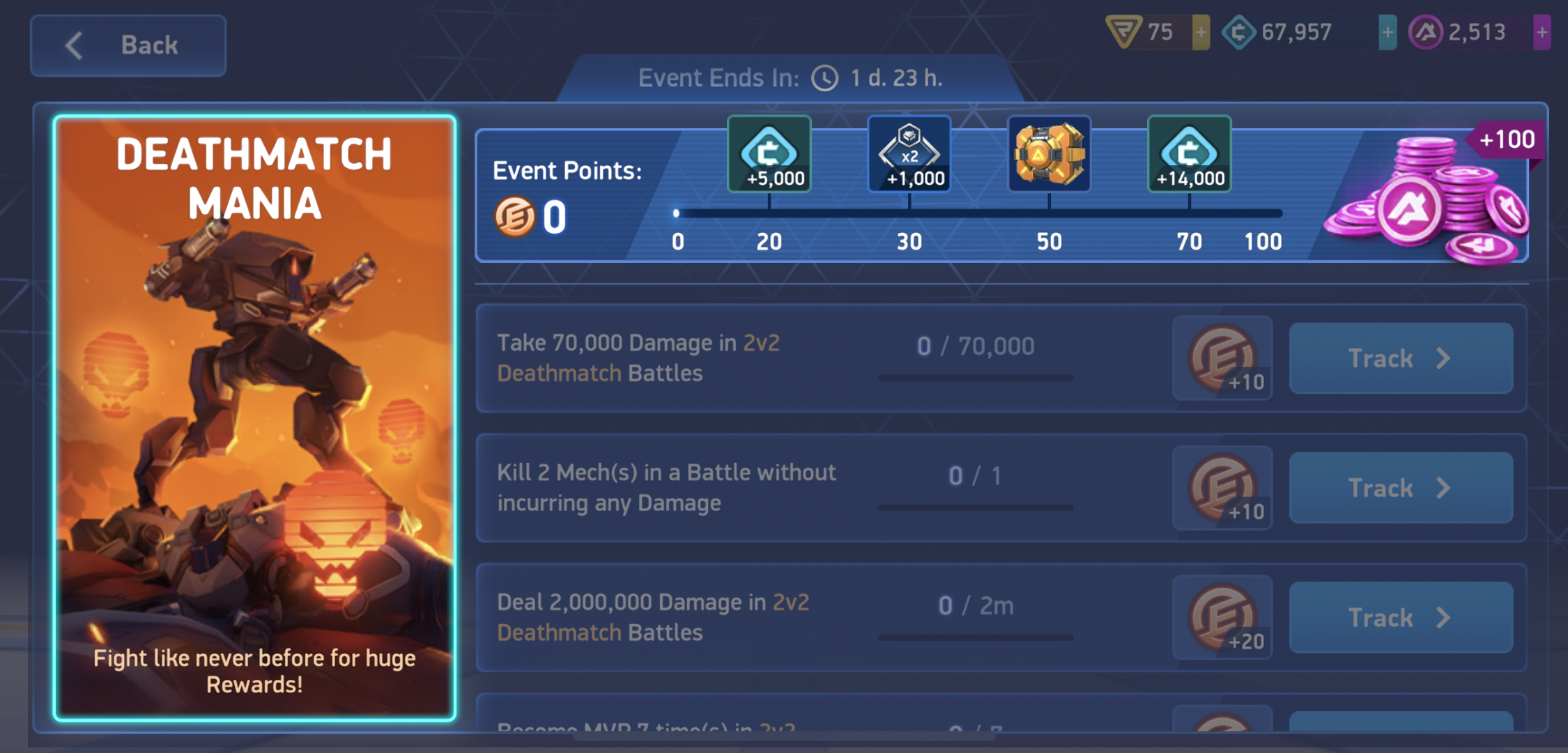 In Pilot Prizefight, all the Objectives center around the Pilots and all that goes with them.
Please note: Objectives can relate to either one particular Pilot or all of them at once.
Useful rewards for your efforts will be:
- Implants
- Pilot Marks
- Implant Crates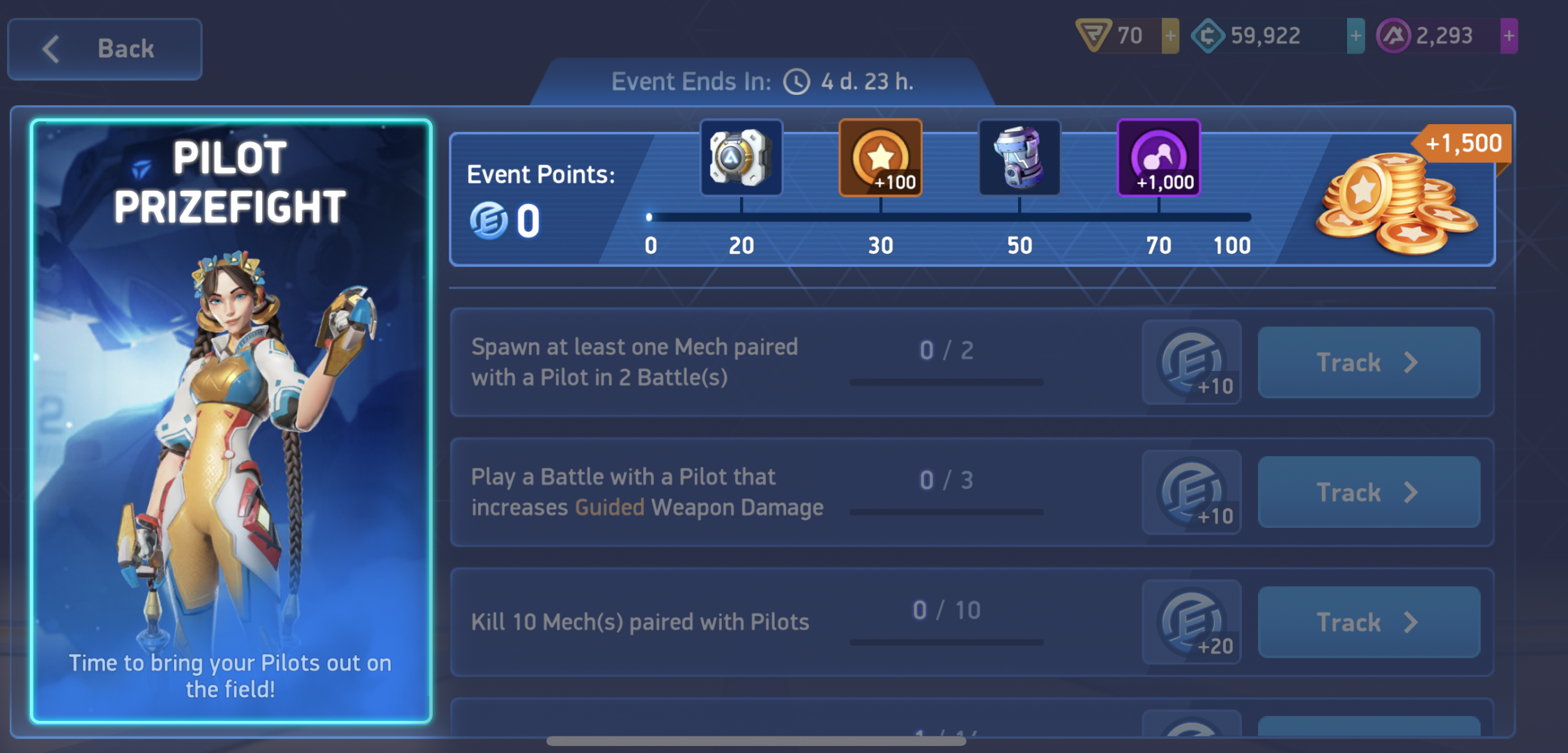 The Accolade Challenge offers you another opportunity to earn more valuable resources, such as Tokens for the Event Crate Rush.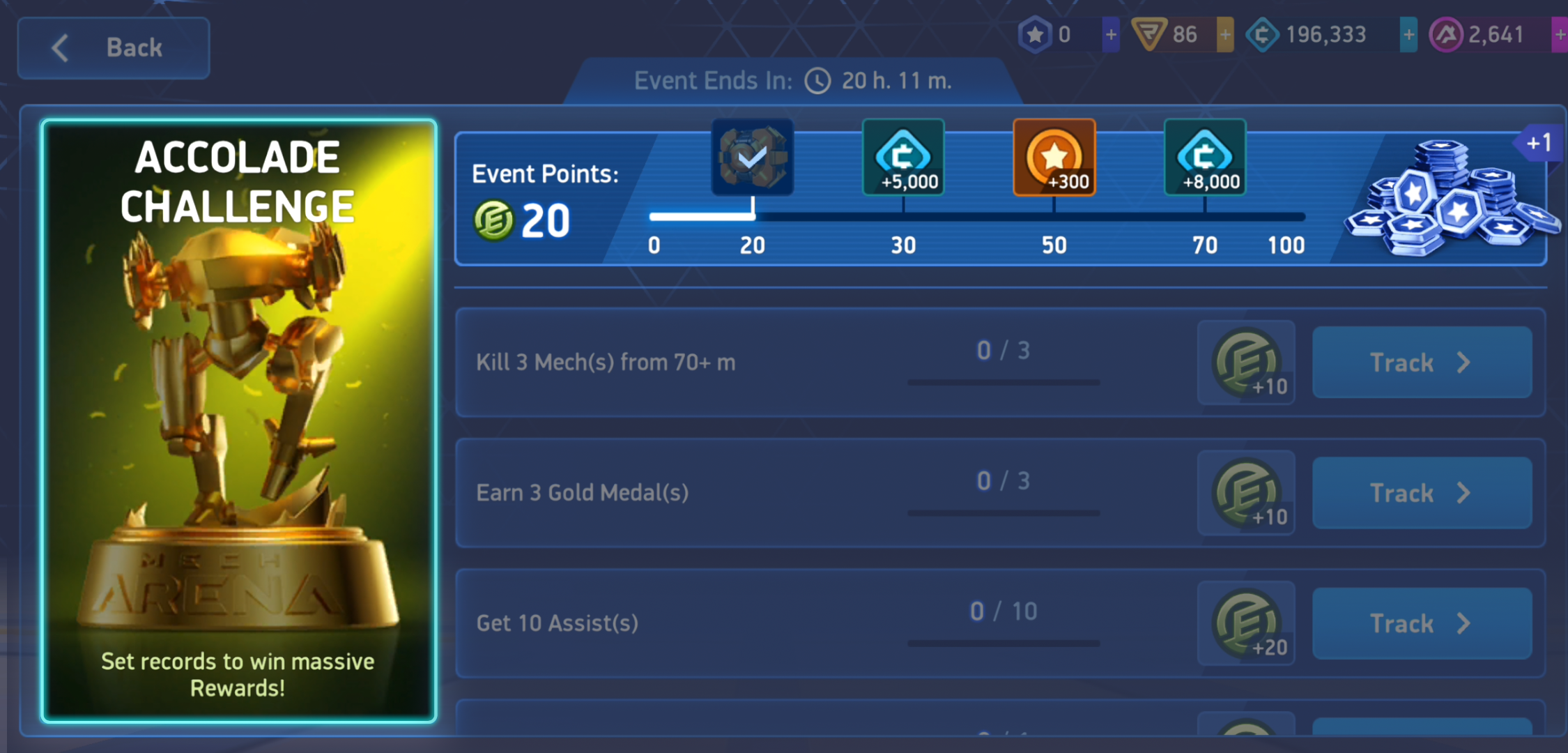 Development Derby consists of the Objectives aimed at developing your Hangar. Here you can get incredible bonuses and useful resources while improving your Hangar.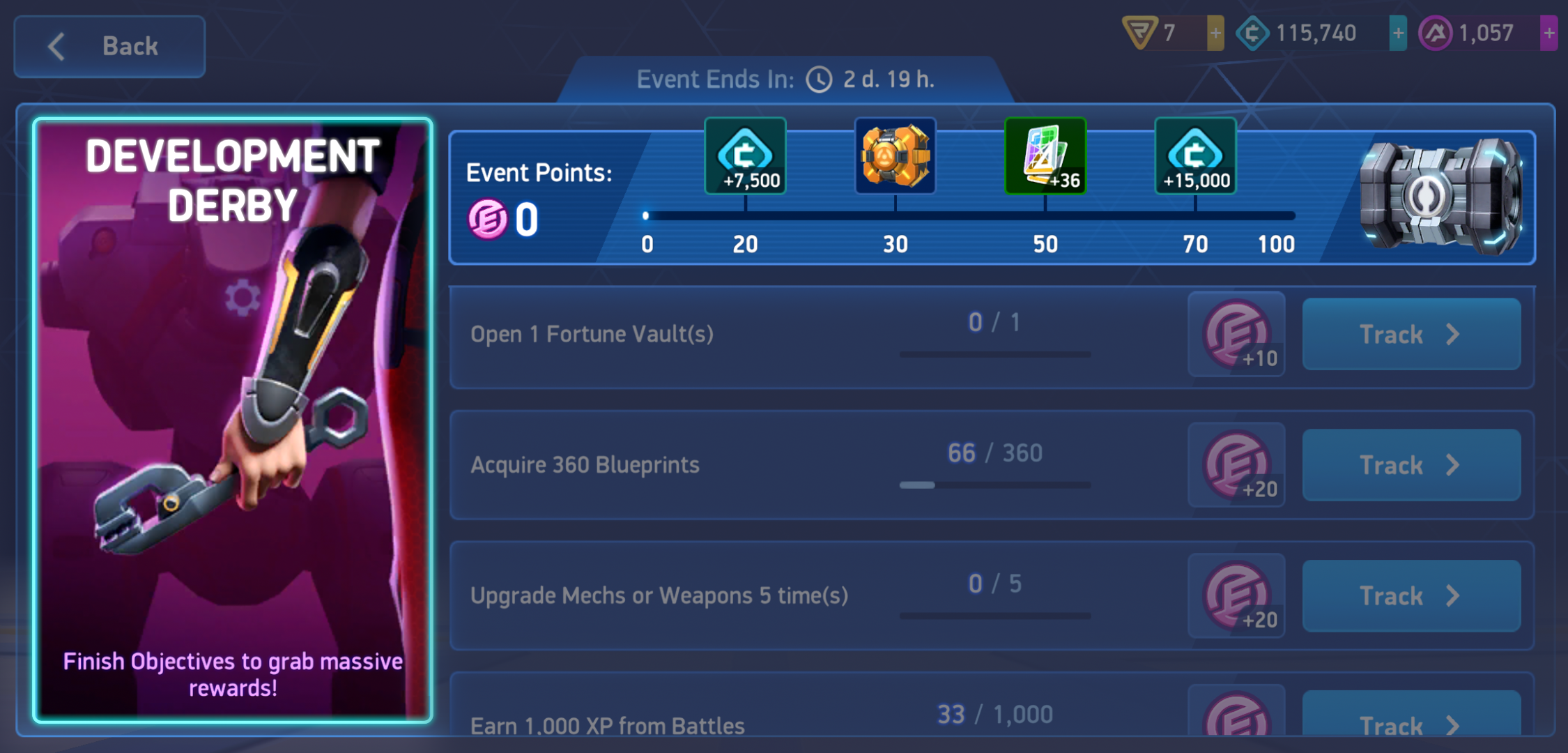 From time to time, you will also discover Derby Events that are held only on special occasions.
A unique feature of the Derby is the Objectives that get unlocked day by day, with difficulty, and, accordingly, the value of the reward increases.
Event Crate Rush is a unique type of Event. It offers all the best prizes, including new Pilots, Mechs, Weapons, valuable Blueprints, rarest Skins, and in-game currency.
To open such an Event Crate, you need A-Coins or, in most cases, a special Event Token. You can get one by completing the Objectives of the timed Events. You can also acquire an Event Token at the Shop.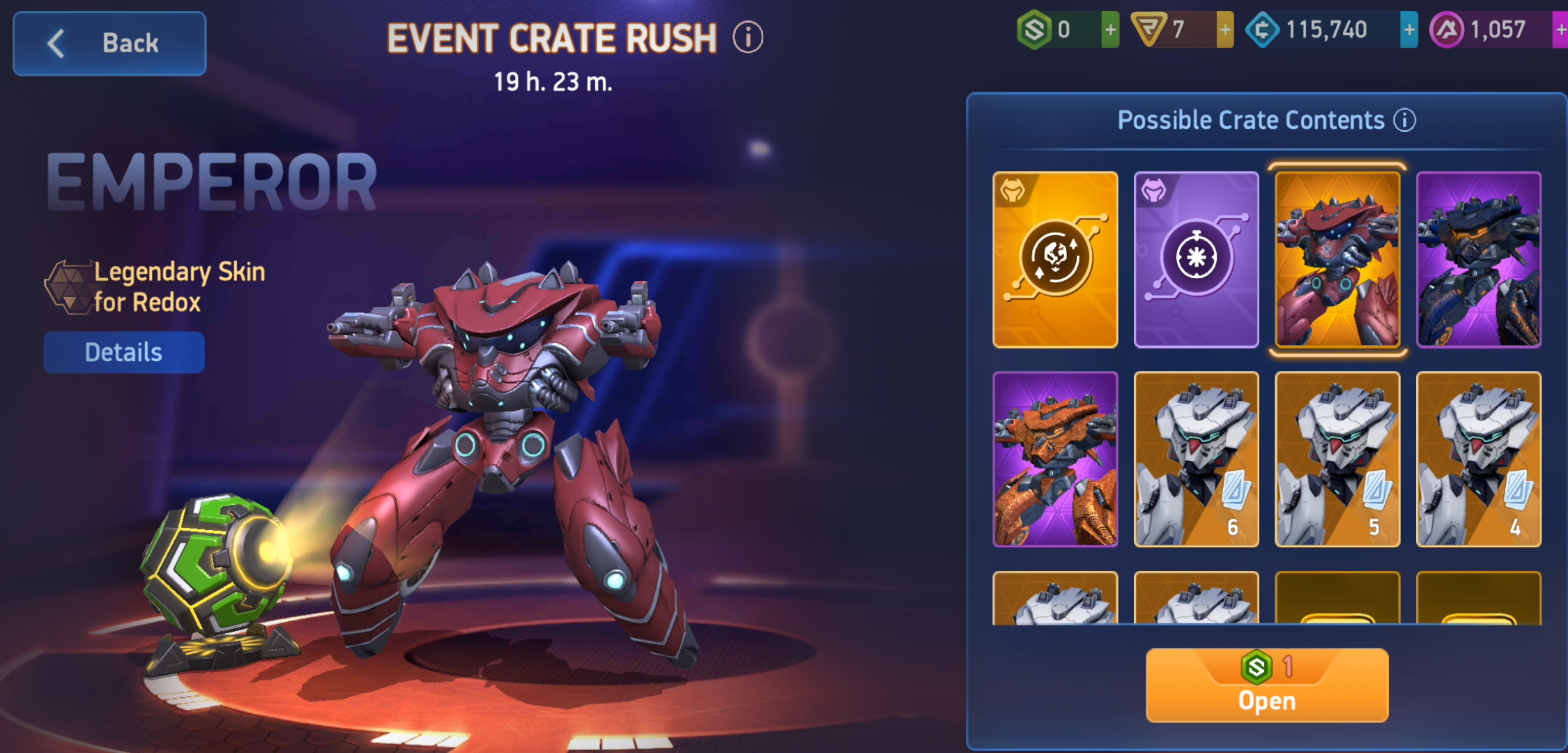 Apart from skill, you will also need a little luck here. To see the complete list of items and their drop chance, tap the "i" icon in the top right corner of the screen.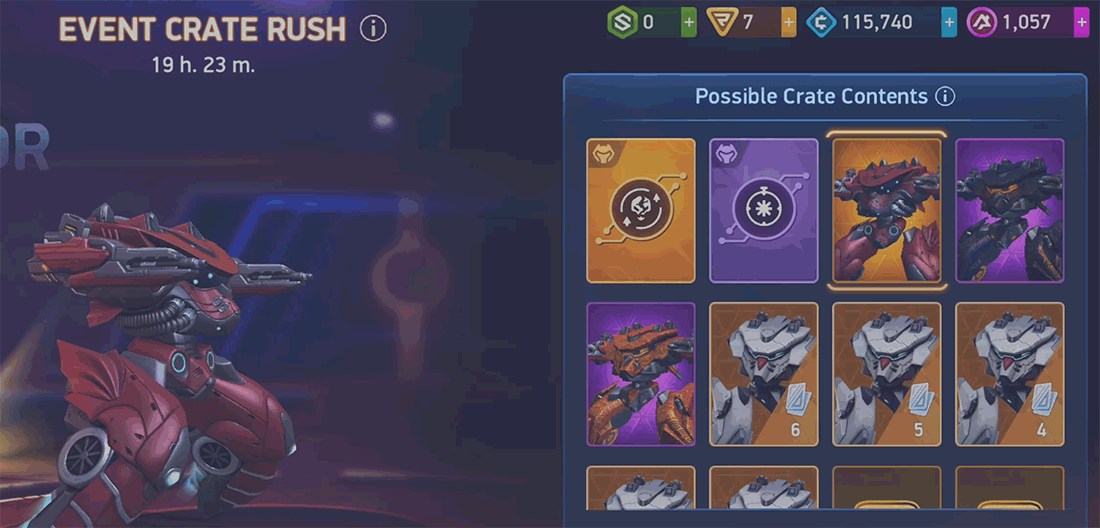 Please note: Each of the above Events becomes available only after a certain amount of XP has been reached. All of them are limited in time.